The TN 200 is currently in service with several of the best known smoked salmon manufacturers in France, Germany, Spain, Scotland, Belgium, Poland, Switzerland and Canada.
The TN 200 is the reference slicer for smoked fish fillets:
HIGH QUALITY OF SLICE PRESENTATION
CONTROL OF SLICE DIMENSIONS AND THICKNESS
INCREASED SLICING (220 cycles/mn)
CONTROLED FOOD HYGIENE AND SAFETY
VERY LOW LOSSES (less than 1%)
VERY LOW OPERATING AND MAINTENANCE COSTS
Construction : Stainless steel
Weight: 850 Kg
Dimensions : L 2420 x l 880 x h 1600 mm
Power supply : 3 x 400 V – 50 Hz – Neutre – Terre
Puissance : 4 kW
Control circuit : 24 V CC
Fillet temperature : -8°C/-12°C (farmed smoked salmon, depending on the fat content) 
Maximum fillet width: 220 mm
Maximum slice length : 170 mm
Slice thickness: 1.5 – 4mm
Cutting angle: 6° – 38°
Maximum cut rate: 220 cycles/min-200cycles/min with DDV
Off-cuts : <1% (farmed smoked salmon)
The first copy of the TN 200 slicer (in the initial version V355) has been in operation since 1999!
In France, PROCONCEPT TN 200 slicers now represent almost 70% of the industrial capacity for slicing smoked salmon and trout.
The TN 200 V364 slicer can be used separately for manual packaging but it is generally integrated into a complete line upstream of the DDV 400 batching module.
Control of the TN 200 V364 slicer can also be made easier by adding a 3D module.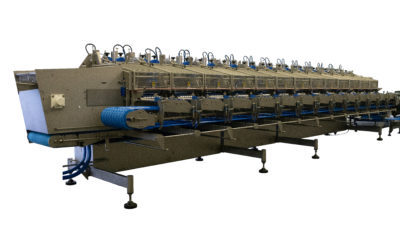 Batching Module DDV400Located post-slicing, the DDV 400 module produces batches of slices with a fixed weight and/or a fixed number of slices. Each station can produce a specific work : type of slices which will be stopped, plate sizes, batches characteristics.Many...