The 3D recognition module was developed to optimise the performance and simplify control of the salmon slicer TN200 V364.
It can be added to the TN200 V364 slicer, even if already installed. Depending on the age of the unit, a component upgrade may be required.
Connected to the TN200 V364 salmon slicer, the 3D vision module :
– removes the need to create or update the slicing program library ;
– increases the slices percentage obtained from the target.
Construction : Stainless steel
Dimensions : 1928x960x2533 mm
Power supply : from the TN 200 V364
Power : 0,5 kw
Pneumatic equipment : maximum pressure: 6 bars
Fillet temperature: -8°C/-12°C (case of farmed smoked salmon varies with the fat content)
Laser Classification: Class 2 Laser
Full tray scan: 4.2 seconds
Cutting angle: 6° – 38°
 
The weight and shape of each fillet are taken into account by the calculation system to create a slicing program (angles and thicknesses) appropriate to the previously entered product specifications (target weight and thickness of the slices).
Individual slicing programs for each type of raw material and finished product (creation of multiple programs, updates, etc.) are replaced by a simple library of finished products with their specifications.
The 3D recognition module is controlled via the touch screen of the salmon slicer TN 200 V364.
The 3D recognition module is generally installed within the framework of an operation on line supplements with a batching module DDV 400.
In this case it is also connected with other equipment of the line, in particular the dynamic scales.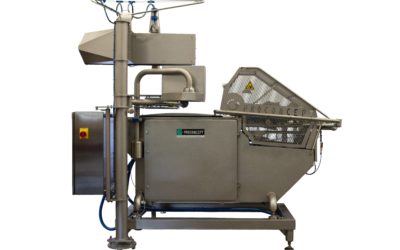 Slicer TN200 V364The TN 200 is currently in service with several of the best known smoked salmon manufacturers in France, Germany, Spain, Scotland, Belgium, Poland, Switzerland and Canada.The TN 200 is the reference slicer for smoked fish fillets: HIGH QUALITY OF...