Located post-slicing, the DDV 400 module produces batches of slices with a fixed weight and/or a fixed number of slices.
Each station can produce a specific work : type of slices which will be stopped, plate sizes, batches characteristics.
Many versions of the DDV400 module exist to better adapt to your constraints and your production objectives:
• 10 stations or 13 stations,
• Standard or compact workstations
• Right or left version,
• Upstream or downstream exit for straight lines or with return,
• Additional stations at the input or output of the module,
Construction Stainless steel
Weight 2400kg (DDV 400/10)
Dimensions (10 stations std) L 8630 x W 1622 x H 1593 mm
Power supply 3x 400 V – 50 Hz – Neutral-Earth
Power 4 kw
Control circuit 24V CC
Air pressure equipment Max. air pressure 6 bars
Instant capacity 200 slices/minute
Length of plate (standard version) Max 485 mm/Min 170 mm
Width of plate (standard version) Max 260 mm/Min 130 mm
Length with specific device Down to 70 mm theoretically
Width with specific device Down to 65 mm theoretically
The DDV module makes it possible to create UVCs on plate with a processing speed of 200 slices per minute.
For each case, a specific study is carried out to decide with the manufacturer on the best possible configuration.
All conveyors, work tables… and other link modules are also specifically designed to allow the best layout, to optimize the ergonomics of the various workstations and more generally to maximize technical and economic performance.
For very small inserts removable holders are also available. They are positioned very easily, without any tools, at the uprights of the platelet destackers.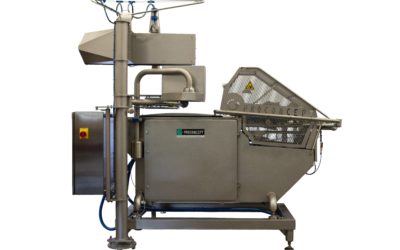 Slicer TN200 V364The TN 200 is currently in service with several of the best known smoked salmon manufacturers in France, Germany, Spain, Scotland, Belgium, Poland, Switzerland and Canada.The TN 200 is the reference slicer for smoked fish fillets: HIGH QUALITY OF...