PROCONCEPT has specifically designed the TCM 300A slicer for companies that carry out manual packaging of slices and wish to obtain very good performance in terms of slicing quality and productivity.
The TCM 300A slicer uses the same principle as the TN200 whose performance has been recognized by smoked salmon leaders for many years.
THE MAIN QUALITIES OF THE TCM 300 SLICER
HIGH QUALITY OF SLICE PRESENTATION
INCREASED SLICING CAPACITY : 300 cycles/min
CONTROLLED FOOD HYGIENE AND SAFETY
VERY LOW LOSSES
VERY LOW RUNNING AND MAINTENANCE COSTS
Construction Stainless steel
Weight 800 kg
Machine dimensions L 2720 x W 970 x H 1540 mm
Minimum space required L 3800 x W 2800 x H 2700 mm
Power supply 3x 400 V – 50 Hz – Neutral-Earth
Power 4.5 kw
Fillet temperature -8°C /- 12°C (farmed smoked salmon/ depends on the fat content)
Maximum fillet width 220 mm
Maximum slice length 170 mm
Slice thickness 1.5 – 4 mm
Cutting angle 8° – 38°
Maximum cut rate 300 cycles/min
Off-cuts < 1% (with farmed smoked salmon)
On the TCM 300 A version, it is possible to control automatically the variation of the angles of cutting. The user friendly touchscreen inserted on this version, allows very easily the creation, the modification and the execution of slicing programs.
The design and the speed of TCM 300 allow to reach, in real condition, very high productivities (higher than 500kg/h under some conditions of production), without degrading neither the quality of the slices nore the yields.
Proconcept proposes complete lines : slicer, packing stations and conveyors.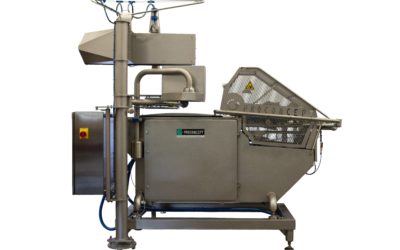 Slicer TN200 V364The TN 200 is currently in service with several of the best known smoked salmon manufacturers in France, Germany, Spain, Scotland, Belgium, Poland, Switzerland and Canada.The TN 200 is the reference slicer for smoked fish fillets: HIGH QUALITY OF...